Credits
Client
Nidokraft. Honeycomb cardboard.
Project
Stand Good Vibes. CPrint Madrid
---
Nidokraft and Cartonlab, a professional and creative relationship
Nidokraft is one of the main manufacturers of honeycomb cardboard panels in the national market. From Cantabria and under the direction of Carlos Viadero, this company is an outstanding supplier of Cartonlab. From this relationship arose the opportunity to collaborate in the creation of its stand for CPrint! Madrid, an annual event of reference in the sector of printing and cutting tools. The challenge for us was to get the most out of their material in a 30 m2 space, located in one of the most visible areas of the venue. The result did not leave anyone indifferent.
Six times lighter in cardboard than in wood
Sustainable and 100% recyclable
Eye-catching design for professional events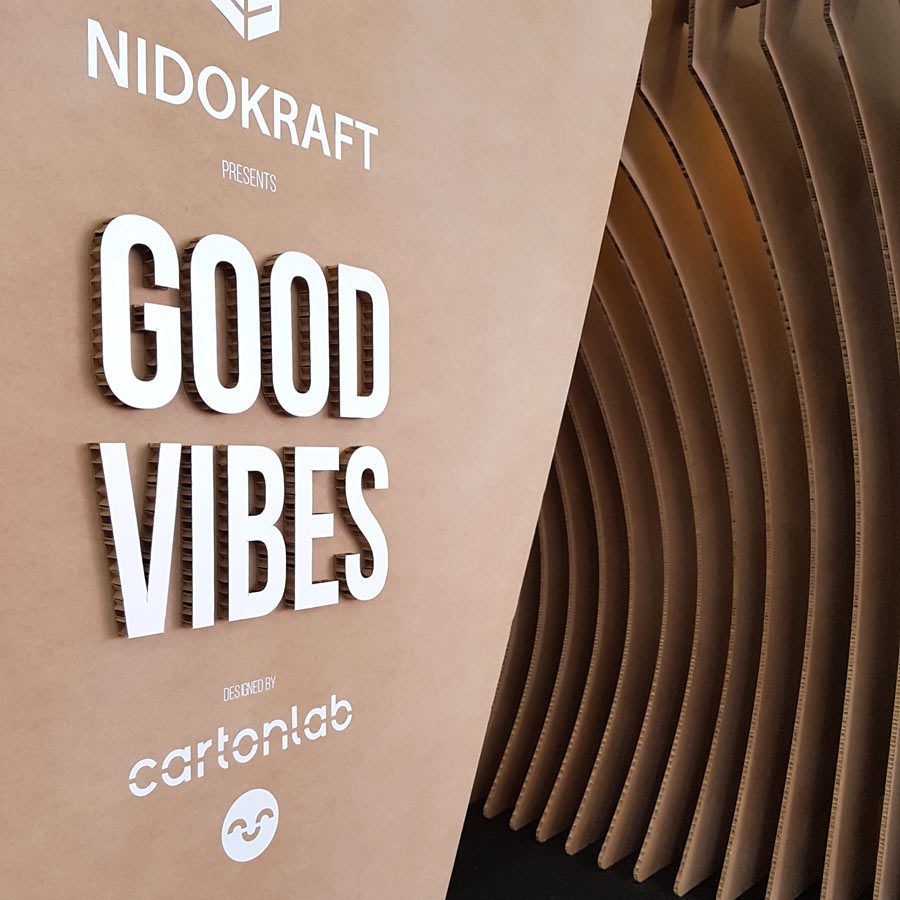 'Good Vibes', a haven to relax and take a breath
Given the amount of incentives for the visitor that a fair like C!Print implies, we opted for a strategy that would allow us to differentiate ourselves from the rest by contrast. Faced with the general noise and bustle, we built an elegant space, with organic lines and visually very attractive. A world of sinuous geometry that invites you to disconnect for a few seconds and fill yourself with the good vibrations that a sustainable material as the cardboard honeycomb transmits. Hence the 'Good Vibes' concept that was displayed on the corporeal at the entrance to the stand.
A sustainable and fireproof cardboard portico pavilion
We devised this cardboard pavilion as a succession of porticos different from each other, whose forms generate the interior space, the access areas and the window-counter for customer service. Honeycomb is a sustainable and very light material, which means that the stand weighs six times less than if wood had been used. Working with cardboard also means saving: in initial production, in transport and in assembly. On this occasion, to comply with the requirements and regulations against fire in the facilities, it was necessary to apply a treatment to the cardboard that made it fireproof.
Manufacture and assembly of the stand: a giant puzzle
Designed in honeycomb cardboard of 15mm thick, optimizing the space to the maximum to take advantage of the material.
50 plates cardboard 3.1 m long by 1.6 m wide were used.
Cutted into 175 different pieces.
Manufactured in our facilities with our CNC digital cutting table.
Sent to its destination in Madrid flat palletized.
Assembled by 3 people in 1 intense day of work.
Built as a gigantic puzzle of pieces that fit together together without the need for glue or special joint pieces.
Related projects
Tell us about your project
What are you planning? Receive a budget and get ideas to carry out your plans.
Contact us