Honeycomb cardboard (Nidokraft) and Cartonlab
Nidokraft is one of the main manufacturers of honeycomb cardboard panels on the international market. From Cantabria and under Carlos Viadero leadership, this company is an important provider of Cartonlab. This relationship has caused the opportunity to create in collaboration their trade booth show at CPrint Madrid. An annual event where Nidokraft participates with their own stand to show all the news.
The challenge to us was to bring the most out of their material in a 30m2 space located in one of the most visibility zones of the enclosure.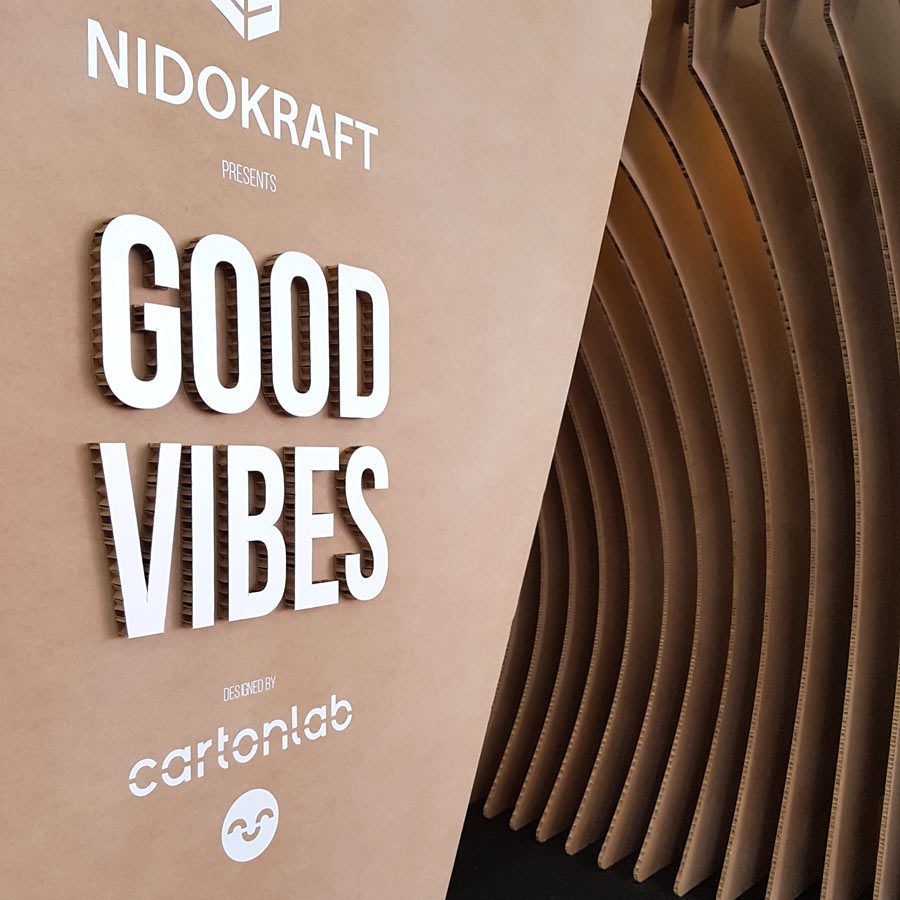 Good Vibes. A refuge where relax and take a breath.
CPrint!  is the reference event of the digital printing sector. You can discover there different formats, laser and CNC numeric cutters tools, signs, displays, and customization. 3 days of an intense schedule full of stimuli, machines, talks, workshops, sounds, smells and visual hits assured in every step.
That is the reason why we proposed a design strategy that creates contrast. In front of the noise and bustle of the fair, we decided to build an elegant space of organic lines and really attracting visually. A world of sinuous geometry that invites to disconnect for a few seconds and get powered by the good vibes that a sustainable material as honeycomb cardboard transmits.
Designing a Vibrant section
To build this paper pavilion we imagined an ordered sequence of different sections. This sequence of cardboard gateways generates the interior space of the booth, access zones and the customer receiving window-bar. The booth is made with a unique material: 15 mm honeycomb cardboard kraft finished. Each panel sizes are 3100 mm x 1600mm. To take maximum advantage of the material and verify the model, we used CAD 3D tools and parametric design that allowed us to adapt the complexity of the pieces to the exact sizes of the honeycomb cardboard panels.   
Manufacturing and installing: A giant puzzle
This booth was manufactured at Cartonlab headquarters in Murcia using our CNC digital cutting machines. When it was packed, the pieces were sent to Madrid where they were assembled by 3 persons in an intensive work journey.
50 honeycomb cardboard panels were used, cut in 175 different pieces. The pavilion is a giant puzzle of pieces that fit together without any glue or special union pieces.
Honeycomb cardboard is light, resistant and versatile.
This honeycomb cardboard booth design has a sixth part of the weight that could have had using wood. Designing and producing booths using cardboard not only offers great advantages as lower costs but also in transportation and installation. To match the requirements and normative against the fire of the place it was necessary to treat all the material with a fireproof process. Fire protection was achieved pulverizing every piece with 2 layers of a special chemical component.
Honeycomb cardboard uses
As the current director of Nidokraft told us, they manufacture the material in different finishes and thickness, 30mm maximum, and it is the best cardboard in order to optimize the quantity of paper used in relation to the achieved resistance. The bigger part of its production is going to the manufacturing of displays and PLV even though also in window-dressing, packaging and cardboard pallets manufacturing.
At Cartonlab we use this material in a lot of our designs. We must highlight the exhibition panels and corporeal letters. Both products take advantage of the combination of lightness and flatness of this cardboard type.
Interesting links (Spanish): 
Tipos de cartón y aplicaciones. (Artículo)
Stand Reboard en Cprint Madrid