A unique encounter around olive oil
The 2019 edition of World Olive Oil closed with a great participation success. In Spain we know well the high level of our olive oil, although there are several producing regions all over the world betting on the quality of this product. That is why the contact between producers, importers and others involved in the business is essential. Cartonlab has given shape to the place that welcomes thousands of participants in this fair. Let's know more about the stand for World Olive Oil that we have made.
An employee of World Olive Oil, ready to receive the attendees at the facetted information point.
Our stand for World Olive Oil, in an unbeatable location
Anyone who attended the fair had to pass by, in most cases stop, at the stand we set up. Designed to inform visitors and attract their attention, the cardboard information point perfectly fulfilled its function. It is a pavilion built with modules joined together, produced in white corrugated EB cardboard 4.6 mm thick. It includes a counter and has a faceted finish, more evident in its upper area, and circular figures stamped in a decorative way.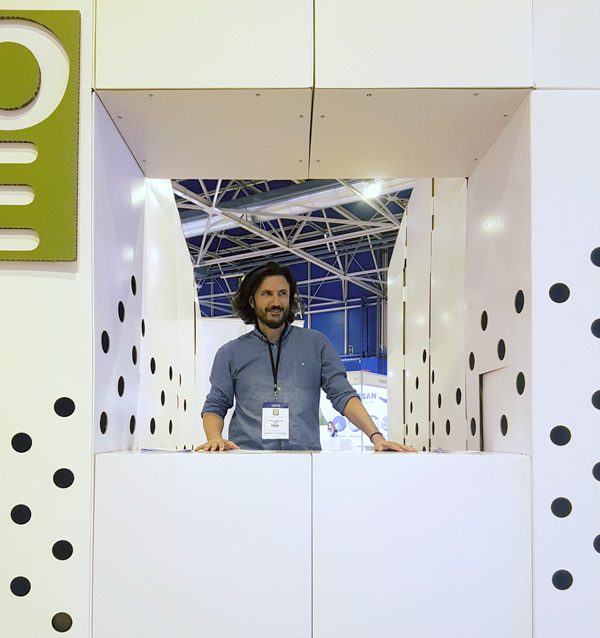 The stand for World Olive Oil includes a functional customer service counter.
The logo of the event was incorporated to the stand through 4 corporeal stamped in Nido de Abeja cardboard of 15 mm of thickness printed in green color. The information point was completed with two faceted totems, also produced in white EB and crowned by cubes in the same material but printed in green with the logo in white.
Panoramic view of the elements of the information point designed and produced for the fair
A reusable design with route
The type of pavilion used for the World Olive Oil Exhibition takes over from another design made for another international fair: the World Bulk Wine which in its last edition took place in Amsterdam. We have worked for them for four consecutive years, but it was in 2018 when we opted for this type of information point with characteristics similar to those of the stand for World Olive Oil. Logically, we have adapted the design to the specific needs of this fair, but we find it interesting to reuse a concept that works very well.
Panoramic view of the information stand for World Bulk Wine
Acontia Oleum, another example of a stand for the same type of product
Returning to olive oil, we have other experiences of design and production of a stand for this type of product. An example is the work done for Acontia Oleum a few years ago, which included a counter, a chair and printed backs with spaces to deposit bottles and bottles of oil.
Acontia Oleum complete stand ready for use