Cardboard Culture
Cardboard types and how to design with them
Cardboard is a resistant, light, economical and very versatile material that has multiple uses in fields such as industry, furniture and even architecture.
There are several types of cardboard and many possible applications. Cardboard sheets are made by superimposing paper fibres and are classified according to their internal structure.
1.-Corrugated cardboard or corrugated cardboard
This is the cardboard format you have seen a thousand times in the boxes that protect delicate items, or the ones you are looking for when moving house. Beyond packaging, corrugated cardboard has other interesting applications.
What is it like?
Corrugated cardboard consists of two main elements:
Flat sheet (liner), is the outer layer , which gives the flatness and finish to the board (white or brown (Kraft)).
Wave (medium), is the inner corrugated sheet that "cushions" the shocks and gives rigidity. Each wave thickness is assigned a letter: A, B, C, D, E are the most common thicknesses in order from thickest to thinnest.
Liners and mediums are glued together to form layers. Depending on the number of layers, we differentiate between the following types of board:
Single-wave: With liner on one or both sides. Very light and easy to handle. It is mainly used for packaging designs and folding product displays.
Double wave: It is used in packaging of greater dimension and resistance. Also in furniture designs, separating panels, screens and product displays. (POS). As it is thicker, it allows V-cutting for folding.
Triple wave(triplex): With this format we gain a great solidity and stability. Used in packaging for industrial parts and agriculture. Of the super-resistant cardboards, it has the best quality-price ratio. Normally manufactured in thicknesses between 9-12mm.
Quadruplex: The highest density corrugated board we work with, available in thicknesses from 9-14mm. Perfect for the most challenging designs.
You will like corrugated cardboard because…
It is versatile and easy to achieve
With corrugated cardboard you are on the safe side. With the right structural design it offers many possibilities. From small creations to pieces of furniture and stands, it is also the most common cardboard format.
Combines lightness and resistance
The OHM shelf is a good example of simple and functional design. Made of 7 mm thick BC cardboard, it weighs nothing and supports up to 250 kg.
You have a thousand ways to design with it
By gluing overlapping layers you get a dual aesthetic and practical purpose. The Cantilever chairs are an example of how to take advantage of the texture provided by the cardboard wave.

Folding: In creations like the low poly animal figures we work the art of folding with complex and eye-catching polygonal designs.
It adapts to anything
A stand, an exhibition, or even scenographic projects like this TV show set. Large format polygonal decorative elements, stools for the audience, table for the interviews… all produced with corrugated cardboard.
2.-Honeycomb cardboard
With the honeycomb cardboard you get a great rigidity with the lowest possible weight . Initially developed for theaeronautical sector, due to its resistance, compression, flexion and lightness.
What is it like?
Its internal structure is made up of hexagonal honeycombs, which cushion impacts and provide thermal and acoustic insulation. And as it is a hollow structure, it is really light.
Another interesting feature of this material is that it always shows the same finish on the edge. This way you get a homogeneous look in any direction of cutting the board.
You will like the honeycomb cardboard for…
Unbeatable weight/stiffness ratio
Obviously, it is the must of this material that tips the scales when deciding on its use. On the other hand, this cardboard is not the most suitable for folding or for making "V" cuts.
No sagging!
The rigidity of the panels prevents large elements from sagging , which is why we love it for displays, signage, banners, three-dimensional lettering and banners.
Nidocraft is one of the leading manufacturers of honeycomb in Spain. For them we designed the project "Good Vibes". A stand built as a tunnel formed by a succession of undulating layers of cardboard.
Ideal for large structures of interlocking pieces
Togetherness is strength. A light and strong material such as honeycomb works perfectly for making large interlocking parts.
A sample? In this stand for Pink Lady in Paris we simulated an apple tree forest made of cardboard. Large columns as trunks and a large roof formed by the tops of the trees.
It is manufactured in sheets with a thickness between 6 and 70 mm. Some of the most outstanding brands are Falconboard, Beelite, Nidokraft, Hexacomb, L'hexagone, Yamaton, etc.
3.-Honeycomb panels
The industry is constantly developing new board formats. Sometimes new materials are obtained by combining and improving existing technologies. This is the case of honeycomb panels.
What are they like?
We could say that this cardboard is a hybrid between corrugated cardboard and honeycomb. Some of the most prominent manufacturers of this type of material are Re-board (Sweden), Xanita (South Africa), Buigiordano (Italy) and Green Board (China).
We like them because…
They combine the best of corrugated board with the best of honeycomb.
It is possible to achieve folds with a very smooth curved finish.
Some manufacturers allow you to combine different finishes (white, black or kraft) both inside and outside.
4.-Cartonboard and solid board
If you are looking for the right material for small designs and light packaging, these two options offer you what you need.
Cardboard is the thin cardboard that you find every day as packaging, stationery or in handicrafts. It is very flexible, folds easily and can be handled with a pair of scissors or a box cutter.
Solid board is made by pressing several layers, almost always from 100% recycled cardboard. It has many applications in bookbinding, packaging, toys, protective corner protectors and even in ecological cardboard hangers, perfect for event slogans.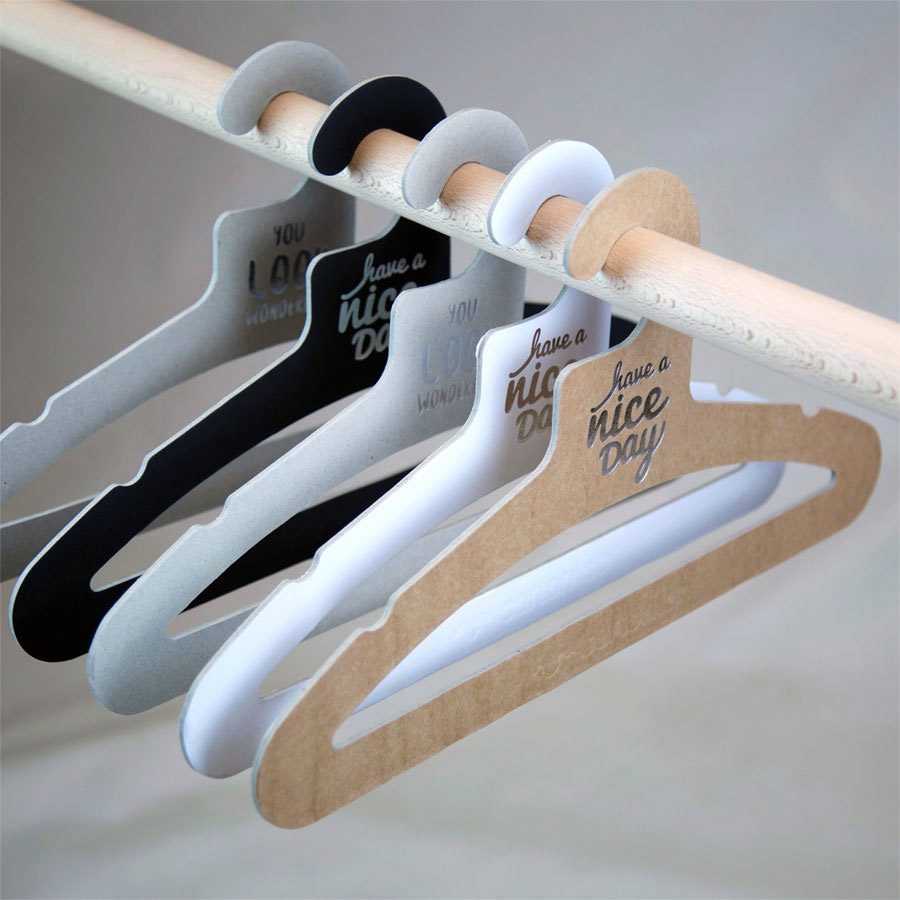 Do you have a project in mind?
Cardboard offers you endless possibilities to surprise and captivate. Contact us and we will help you develop your ideas.