A flagship project: Sea of Energy and Care.
Mar de Energía y Cuidados is a new space dedicated to promoting organisations that are committed to innovation and change when proposing a new energy model. New initiatives that understand energy as a common good that is an engine of change within our urban ecosystem. The projectis located in a building constructed by the architect Navarro Baldeweg that has been reformed for the occasion by the Studio SIC & VIC + TXP Todo por la Praxis following three principles:
To recover the material memory of the building, and to give it full accessibility;
Conditioning the interior infrastructure and accessibility for the new program of activities.
Energy optimization process.

Decorative ceiling lamps
On the ground floor, where the room-workshop and several work areas are located, a set of large-format cardboard ceiling lights have been designed, inspired by the origami folding technique and personalized with different color shades.
The lamps have a diameter of 160 cm and are made of microchannel cardboard digitally printed on one side. They are manufactured with a CNC cutting plotter. Once the plates have been cut, the cardboard shades are transported folded taking up as little space as possible. The assembly of the lamps is equally simple, the structure is unfolded in a cardboard fan and fixed to a support disc by means of special transparent nylon screws.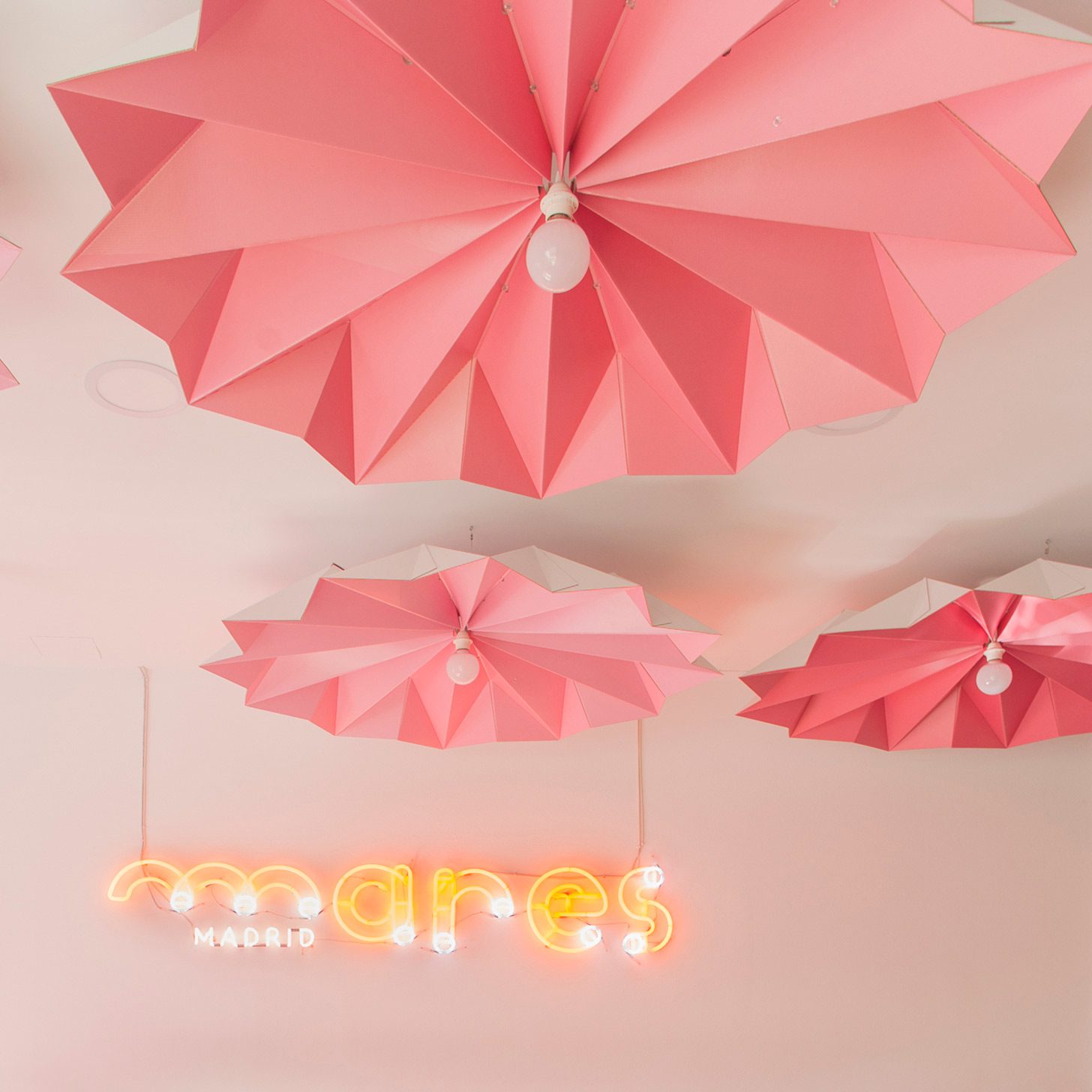 Visual appeal and acoustic comfort
Once installed, cardboard ceiling lights provide a huge environmental quality to work areas and workspaces with a minimum of material. In addition to visual appeal, the luminaires are effective as a decorative acoustic ceiling. Their faceted triangular geometry dampens the echo effect in large open spaces and significantly improves their sound conditions.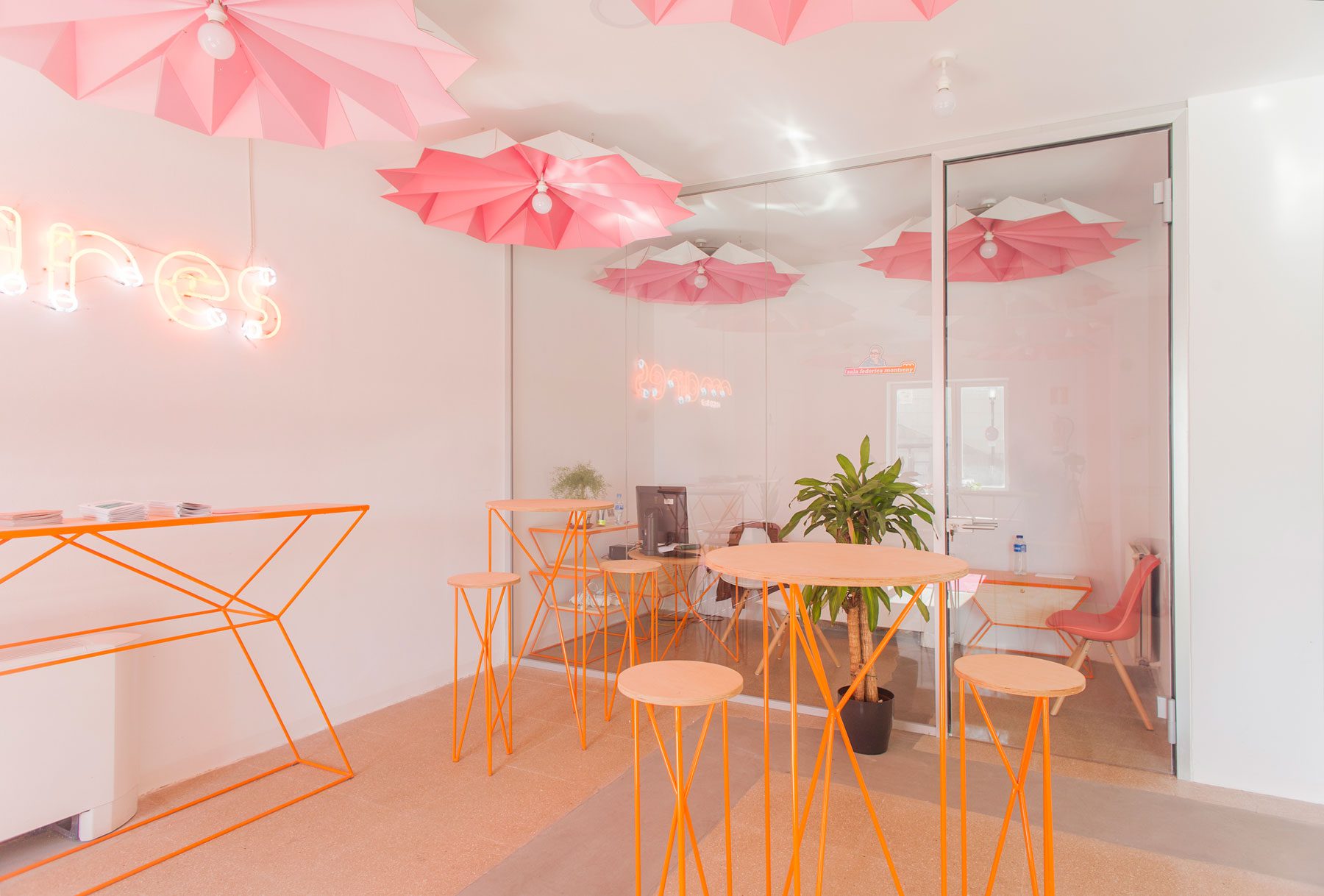 Prototyping and design process
Until the final design of the lamps, a previous process of prototyping has been necessary to optimize the solution of the part.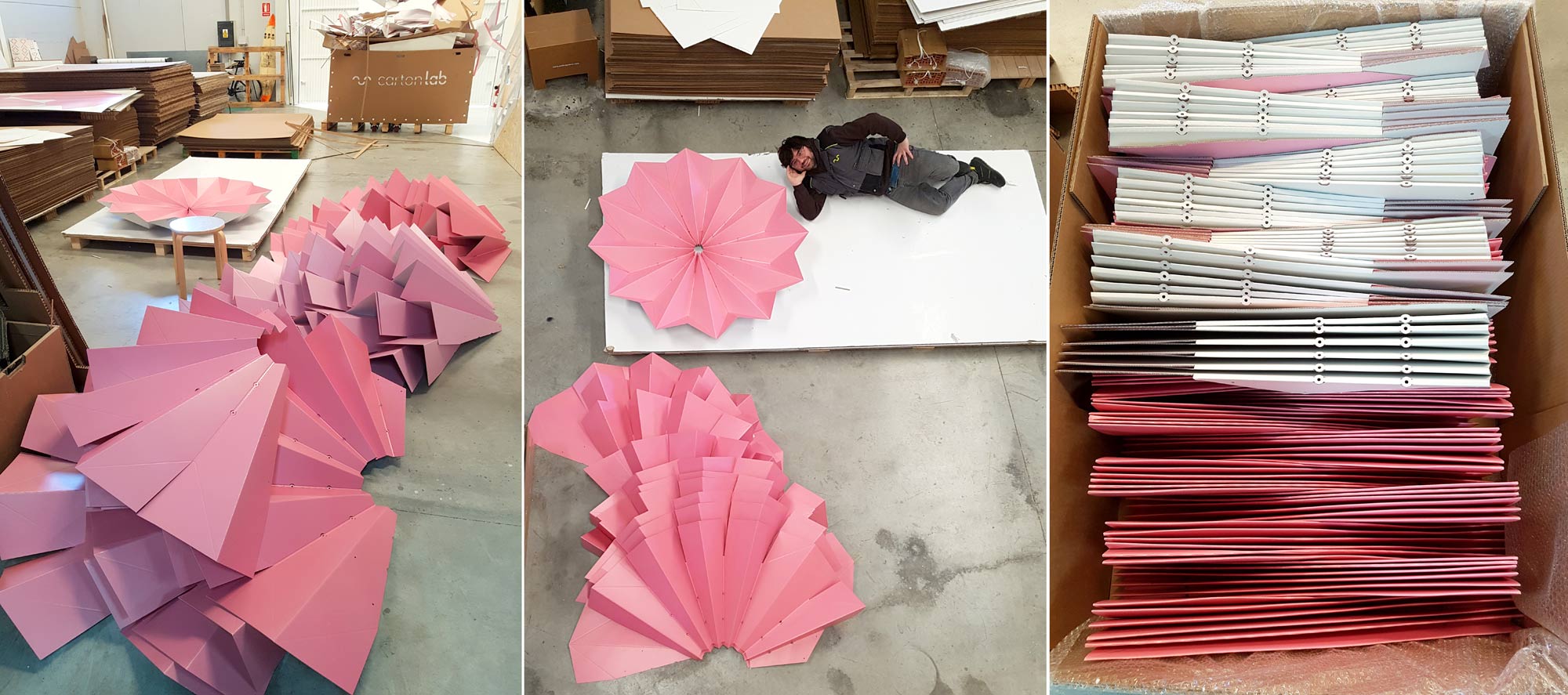 Opening day: Cardboard Origami Lamp Workshop
We participated in the opening day of the space with a cardboard lamp workshop origami attended by over 25 people. In this way, each participant had the opportunity to reproduce a small format lamp from those installed on the first floor.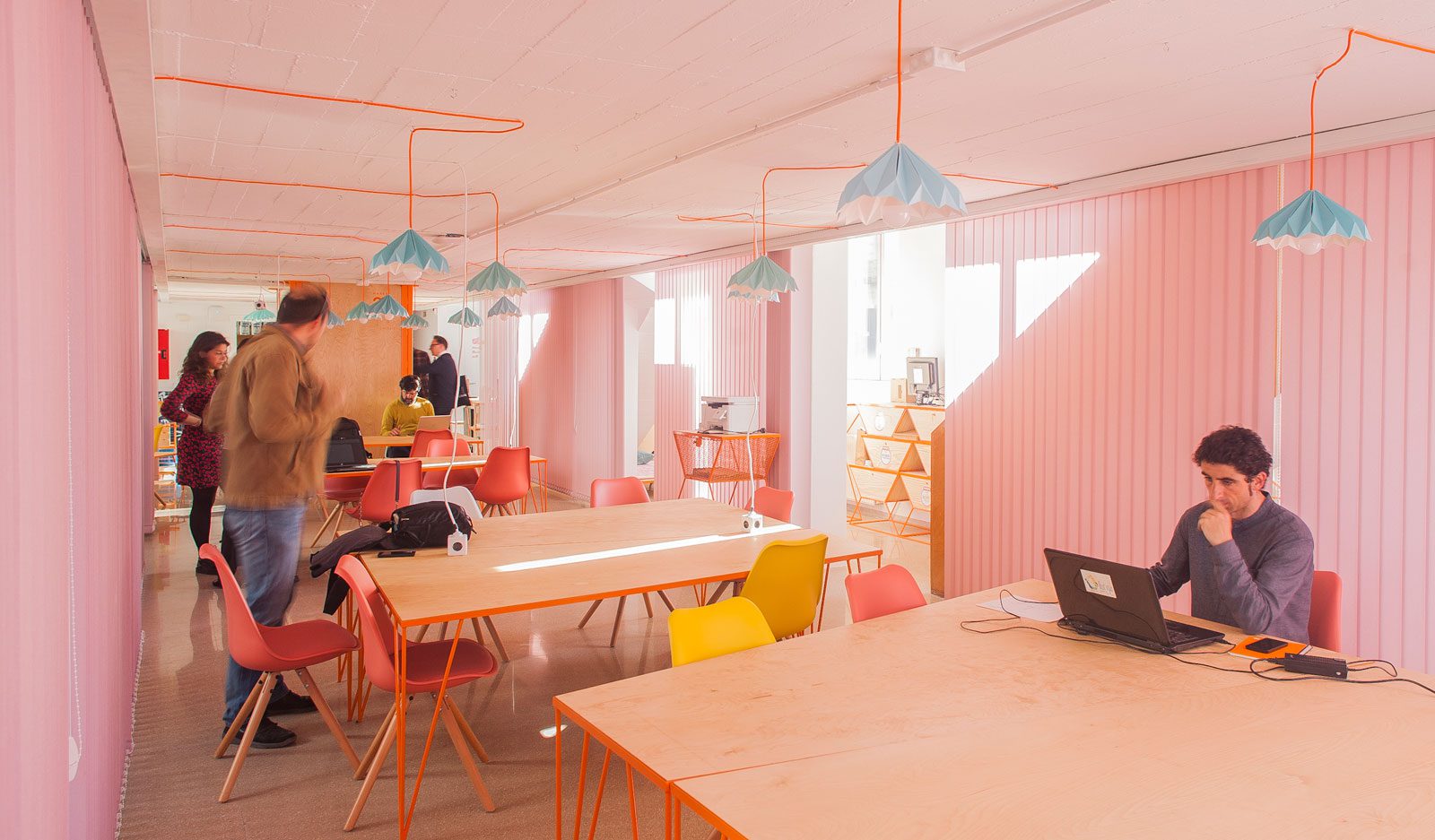 The MARES project is promoted by Madrid City Council in collaboration with eight other entities and is financed by the European Union.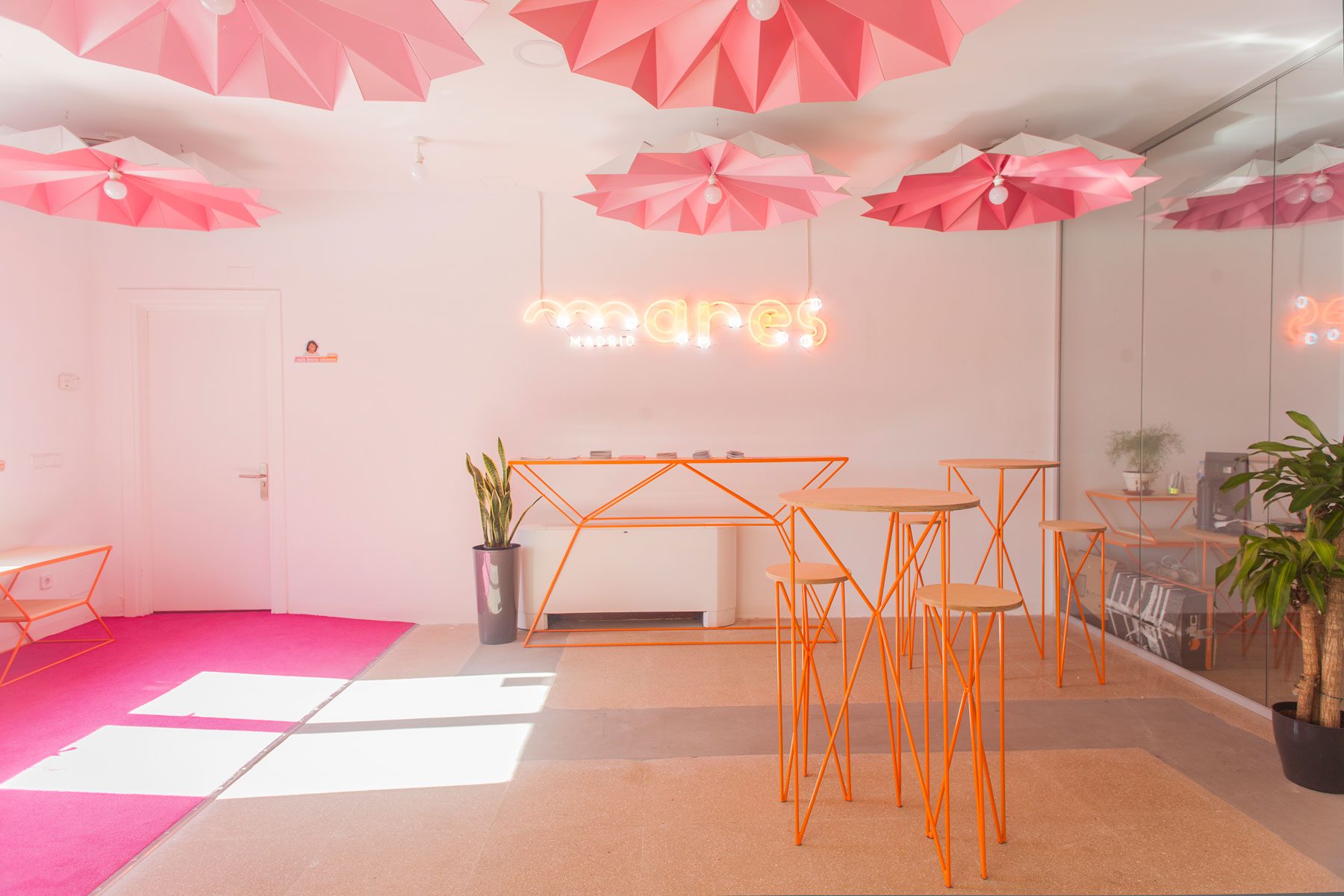 More information about cardboard lamps at Cartonlab.