We furnished the interior of a bus for a campaign of the Catalan brand
Advertising with a vocation to support training
The Catalan brand Munich has set up a campaign based on university degrees and their role in society. They request the interaction of young people with the intention of studying at the university so that, by fulfilling various requirements, they can access one of the three scholarships offered by the brand. An economic boost that suits everyone and that will depend on the creativity of the participants. Among all the proposals, there is an urban marketing action that takes place inside a travelling bus full of surprises for a few days and hours. As has happened on other occasions with this brand, they have counted on us to decorate the interior of the vehicle.
The Munich Life University bus, decorated inside by Cartonlab
We decorate in cardboard the action of urban marketing
Munich Life University, which is the name of the campaign, offers those interested in getting on the bus information on how to get the scholarships while at the same time showcasing the brand's outstanding products in an environment as curious as it is welcoming. This is where Cartonlab's task begins when it comes to furnishing this environment so that it becomes a small functional space. Following the interior design of Studio Animal, we have used a Faceta counter, a two-seater Faceta armchair and two tiered displays. All the elements have been designed and produced by us in EB corrugated cardboard 4.6 mm thick, finished in white and with the image of the brand later vinyled in black.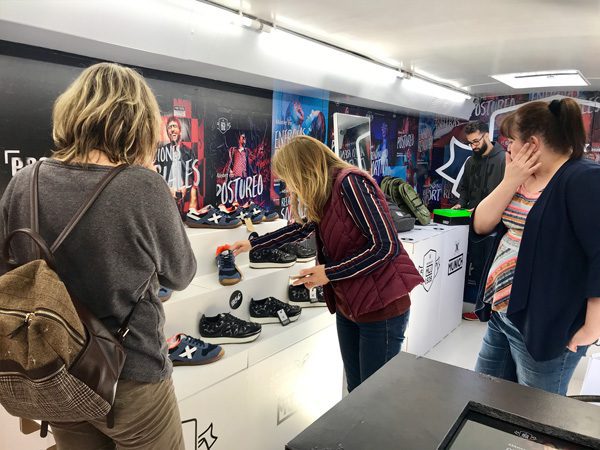 Young people looking at Munich products in our step-by-step exhibitor
Cardboard furniture used to decorate the bus of the urban marketing action
Cartonlab and Munich, regular interaction
It's not the first time we've worked with the Munich brand, whether through the use of our own designs or the production and assembly of other people's ideas. The usual tandem in this sense is that which we form together with the Studio Animal architecture studio, with which we have materialised striking pop up stores in places such as Zaragoza or Barcelona or the brand's stand at the Pitti Immagine fair in Florence. Always trying to combine aesthetics and functionality with cardboard as the main material.
Munich stand made of cardboard for the Pitti Immagine fair in Florence.