Urbact: Sustainables Cities
We participated on the production team of URBACT City Festival at Lisbon. It is the most relevant event about urban development sustainability. Urbact is the annual forum of required visit to share experiences and good practices about innovative urban projects in Europe. To this three days long festival attended around 600 participants from 200 cities and 30 countries.
The intense program includes 50 interactive sessions of networking between municipal technicians, political representants and urbanists. The discussed themes are very familiar to all of us. Some examples are equalitarian cities, placemaking, affordable living places, sustainable peri-urban agriculture, local commerce revitalization, and inequality fight.
4000 m2 of cardboard (4783,96 yd2)
At Cartonlab we have developed the structural design, manufacturing, and installation of all the cardboard furniture to the festival. It is a giant customized production to cover the event needs.
A great cardboard stage
Urbact main activities were on the cardboard stage. The singular curve geometry of the piece was a real challenge to our structural designers and our assembly team. To increase the resistance and durability of the passable zones of the stage we used glue to attach lamination.
Cardboard steps and benches for 600 assistants
Steps and big benches were great solutions for this event. Their lightness and resistance allowed us to fit all the activities program needs in a flexible way. All the elements were customized with different die-cuts and colors to match the event branding. In other events, we also used cardboard steps with great results. They are very versatile pieces which can be used to transform any space into an improvised zone of presentations, product exhibitions, etc…
Modular institutional stands
To the institutional communication place, we designed 27 modular stands of 150cm x 150cm. This stand format is produced with a combination of alveolar cardboard honeycomb to the walls and corrugated cardboard to the furniture (Public attention bar, stools…). The walls also could be used as a board to paint with special pens. Because of their easy assembly and flexibility to many spaces, those stands are a perfect solution to fairs, corporate events, and young entrepreneurs.
Open meeting and networking spaces
Urbact is an event that promotes the active participation of the assistants, open debate and sharing success stories. We thought that open spaces were perfect to help them achieve this goal.
Each networking area was furnished with customized cardboard designs: round benches and tables, stools and walls with the event branding.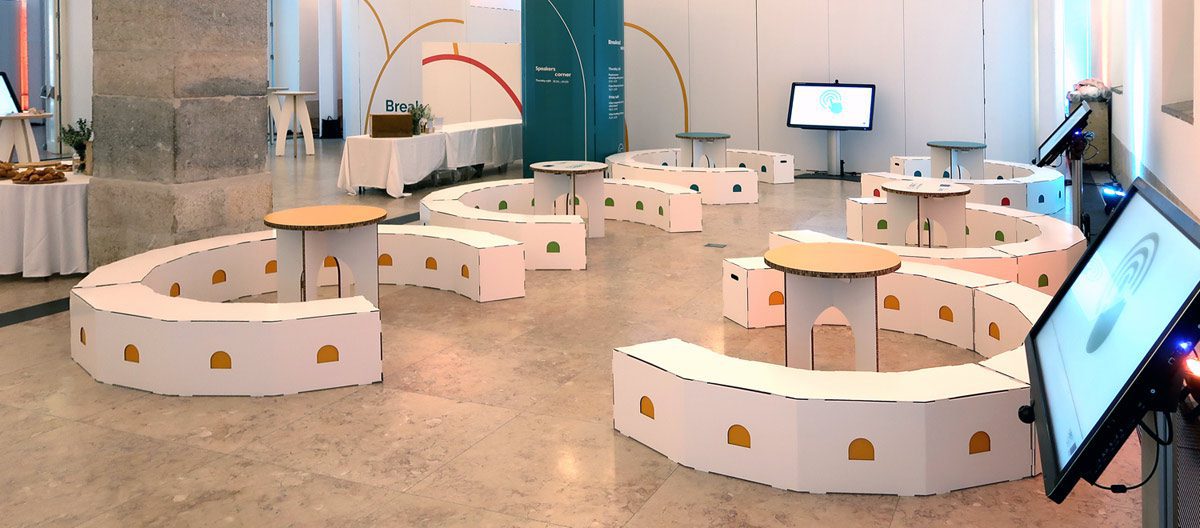 Recycling and reuse
More than 1000 pieces of different cardboard types were used to this event production, more than 4000m2 of material. When Urbact finished, participants were able to take home different furniture pieces: stools, tables, etc…
Also, some of the cardboard pieces used to this event are currently being used in some cultural projects in Lisbon. One example is Trafaria Platform, old jail reused by an architects collective, designers and creatives from many disciplines. The rest of the cardboard were recycled.