Samsung-Deezen contest. Turning packaging into furniture.
Let's talk!
Competing to recycle in style
Out of the Box' is a packaging ideas competition organised by Samsung and the Dezeen website. They propose to recycle the packaging of their products into new quality designs for the home.

The call came to our studio and we encouraged them to participate. The Serif, The Frame and The Sero are the three products whose boxes served as material to fit the proposals.
From Cartonlab we presented four ideas for furniture with recycled cardboard. And we want you to know them.
Facinglight, a simple lamp that multiplies
Designed by Sergio MoralesIts aesthetic simplicity means that it can be built with any of the three boxes proposed by the competition.
The Serif and The Sero packaging can be used to make two lamps, with The Frame packaging up to four. By making several units, you can play at making symmetries and compositions with light.
After a simple assembly and placing the appropriate bulb and switch, the lamp is ready!
Reshoelute, hygienic and functional shoe rack
We are living in a time when it is essential to consolidate new habits related to domestic hygiene. For this reason, a shoemaker is a proposal that is very much linked to the present day. This is how Reshoelute was born.
Using a box from The Serif model, Pablo García Mora has created this multifunctional piece designed for the lobby. When you arrive, you leave your shoes and also have a small table for other objects such as keys or mobile phone. And while you're at it, you take a break from the screens for a while.
It has an easy assembly without flanges, glues or auxiliary parts. With just a cutter and patience, in ten minutes you have it. You have plenty of time to find a pot and decorate the assembly.
Upright!, teleworking in the best position
Teleworking is here to stay and the number of hours we spend sitting in front of a computer every day is increasing exponentially.
Lately we talk a lot about hygiene in general but what about postural hygiene?
Upright! is a backless chair that folds and assembles. Thanks to its rib structure, it can easily support your weight even if you've been snacking between meals.
The hours of work at home have multiplied, but you don't have to hurt your back. This chair, designed by Carlos Abadia helps you with that. Orient your position to prevent scares.
Tatami, an oriental touch for your home
When you consider reorganizing your house, there are always corners to be furnished, small domestic challenges. There is a creative window through which ideas such as Tatami, a creation of Miguel Angel Fernandez.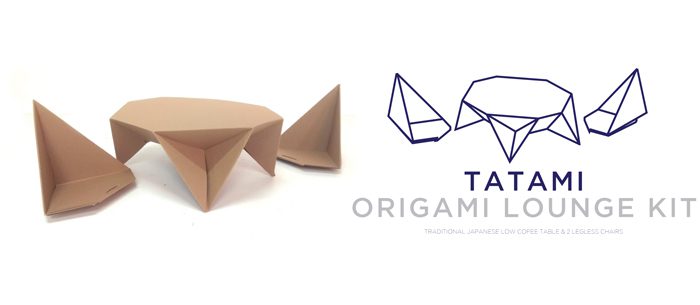 This is a kit containing a chabudai(short legged table) and two zaisu (legless chairs), traditional Japanese furniture.
Tatami is quickly assembled using origami techniques, completing the oriental experience. It allows us to reuse 100% of the box of The Sero model just by folding it. In 20 minutes it will be ready.
Tell us about your project
What are you planning? Receive a budget and get ideas to carry out your plans.
Contact us